We Buy Junk Cars
– Junk Cars Miami
– Fast Cash Guaranteed
– Free Vehicle Pick Up
– Any Car Any Condition
– We Pay The Most
We Buy Junk Cars In Miami
Junk Cars is an owned family business operating in South Florida for several years now. Our company specializes in buying junk cars, used cars, wrecked cars, salvaged cars and old cars. Regardless the condition of the vehicle, our efficient and well managed installations allow us to give the best cash offer in town for it. Prestige Junk Cars will handle all the paper work required by the state of Florida. We have our own fleet of new flat bed and wheel lift tow trucks to be able to arranged a same day pick up if necessary. All of our services are 100% free which included towing, junk car removal and title transfer.
Wheather
Your car is running or not…. We want it.
You have the title or not….. We handle it.
You want it gone the same day or not …. We can do it.
Your car has a lien or not… We will contact the lien holder and satisfy the debt.
We are just one phone call away to help you in any way possible. Our job is to get your unwanted vehicle out of your property and convert it in cash for you.
5 Steps Before Selling Your Junk Car
1. Find important papers. By finding them, the procedure of selling your junk car will be easy and much faster for you.
• The title is the most important paper because without it the transfer and cancellation of title can't occur.
• In case the title has been lost or misplaced, the salvage yard can still buy the junk car with a copy of your drivers' license and a proof of ownership (e.g. Registration or VIN number).

2. Get the best quote. Calling various junkyards can make the difference between getting a good deal and being ripped off. You'll be astonished to hear all the quotes you'll get for your car. A variety of factors may impact the quote offered such as make, year or the weight of the car. This is why it's better to get various quotes.

3. Communication is key to eliminate surprises. Many times the dispatcher won't ask the all the question necessary because time issues. So be certain to inform the dispatcher of the situation of the car and any missing parts. Also be sure to inquire if there are extra fees such as towing service and title transfer.

4. Confirmation of sale. It's vital that the tow truck driver gives you a receipt of sale because that will guard you from any issues that may occur after selling your junk car. It is recommendable that after about 2 months to call the tag agency or DMV to make sure that the title has been cancelled.

5. Finding the right junkyard. Finding the right junk yard is like finding the ideal restaurant for a date. You should look at the reviews to make sure that the business is a trusted and licensed company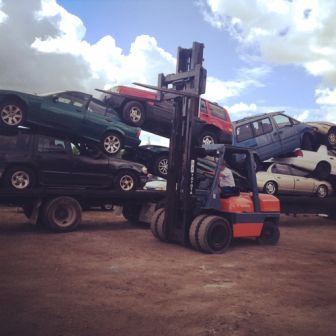 Process of selling your car.
The procedure of selling your vehicle is very straightforward. After you agree to the quotation one of our representatives provides you over the phone, we will set up the best time and day to go pick up your junk car. We'll dispatch a fully equipped flat bed tow truck to your home. Since our drivers are very proficient and well trained to handle any kind of situation, there is no need to worry about the location of the car, whether it has flat tires or you are unable to put the car on neutral. We will take care of it. Have the certificate of title on hand and ready when the driver shows up, he is going to instruct you to sign it over to our corporation and give you a receipt as proof of sale. In case you misplaced the certificate of title, our driver will instruct you to fill out a cancellation of title form which is also a proof of sale. Once the paperwork is done, we will get your junk vehicle out of your hands. Your old car is going to be tow away in just a few minutes. This is a very easy and fast process. Prestige junk cars specializes in picking up junk cars always providing exceptional service in a timely manner.
WHAT OUR CLIENTS SAY
Here is what some of our clients say about doing business with Prestige Junk Cars in Miami.
I called a lot of junk yards in Miami and Prestige Junk Cars gave me the best offer. They picked it up the same day and paid me cash for my junk car.
I needed it my junk car removed the same day from my condo and this company was the only one able to do it right away. They towed it away for free and gave me cash for my junk car. Highly Recommended
They bought my Nissan Altima for $400.00 in cash. Very professional. Thanks
Mejor oferta por mi carro en Miami. Siempre pagan cash y son honestos. Gracias muchachos.